Interjections are a part of speech that has long been considered as the least important of the 8 in total. This is because interjections aren't really very important or necessary for the formation of grammatically correct sentences.
Yet to give interjections their due and to help understand how and where they can be useful, we must understand their usage and types. Interjections have no use in formal or business writing but are a very common occurrence in fiction and informal speech/writing. An interjection is a word solely designed to convey emotion and verbalize emotional expressions. It expresses feeling or meaning.
It does not:
relate grammatically to the other parts of the sentence
help the reader understand the relationship between words and phrases in the sentence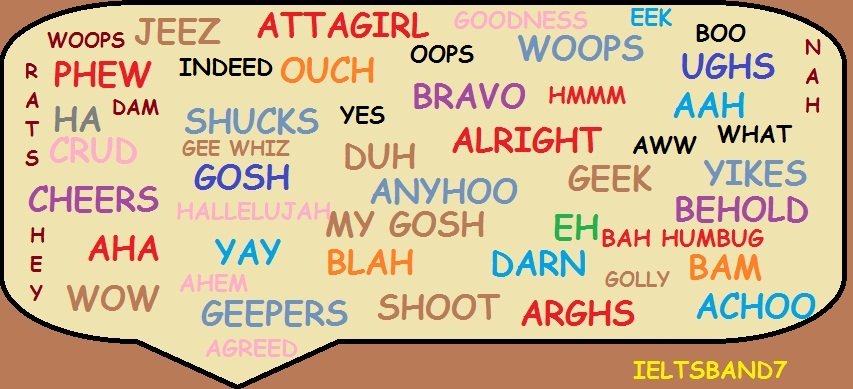 Types of Interjections
There are literally hundreds, if not thousands, of interjections in the English language. Most are designed to express strong emotions, such as love, hate, surprise, happiness, anger, enthusiasm, disgust, boredom, confusion or unhappiness. However, this is not always true. Some interjections can express either a mild emotion or can be expressions, such as "Excuse me."
A sample list of interjections includes words such as:
Oh my god!
Lovely!
Wonderful!
Wow!
Aha
Boo
Dang
Eew
Gosh
Goodness
Ha
Oh
Oops
Oh no
Ouch
Uh-oh
Uh-huh
Ugh
Yikes
Yuck
Interjections are like freshly chopped coriander or parsley leaves on steaming dish of food. They add a little bit flavour and fragrance for the senses. They boost the visual presentation and add colour to any dish, yet don't really make a difference to the way the dish was cooked. This metaphorical 'coriander' can be done without with, yet is always welcome whenever used.
To make your language more dynamic and learn from the experts, visit us at peptalkindia.com. These and many more tips are waiting for you at Pep Talk India. Join us, to see the new you!